Today Adam shares how to be aware of your surroundings at all times. Listen to these smart tips for staying safe. You'll hear how there are many places where bad guys can hide. And how in many cases, while you can't see them, they may be able to see you. You'll learn how you can perform a simple check to be sure your surroundings are all clear. Along with why you should never underestimate the ability for a perpetrator to hide almost in plain sight.
You'll even get extra tips for remaining aware and safe, so you don't feel paranoid or scared when you're out in public. You'll also uncover the most important areas to be on your toes, and be aware of your surroundings. Including why taking a peek around certain things can give you peace of mind that the coast is clear.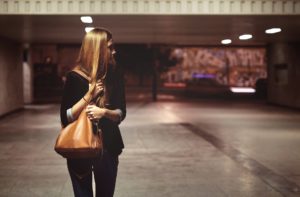 Was this training useful for you? Are you already more aware about potential dangers in public, just from what Adam shared? How will you apply these tips the next time you're out with your wife, husband, partner or family? Share your thoughts below.
About Adam:
Adam Painchaud is one of the most highly regarded small unit tactics and advanced firearms instructors in America. He is Army Ranger and Airborne qualified. Adam is a senior non-commissioned officer with nearly 22 years of experience in both active duty and reserves. He has completed federal investigations as well as protective services missions worldwide including missions for the war against terrorism.
Adam has since transitioned to being the President and Co-Founder of E3 Firearms Association, as he continues to serve as a police officer. Adam remains active helping with training agencies, SWAT teams, and the community. He is  dedicated to making a positive difference in the firearms community and in people's lives. Adam is the driving force behind E3 Firearms Association.