Adam Will Tell  You Wilson Combat is a Name of Quality
Why the EDC X9 is the 9 mm pistol Adam left the show carrying.
Watch Adam Live from NRA 2018 – Dallas as he gives you a walk and talk through the NRA 2018 convention, as innovation and quality is how Adam explains the new 9 mm pistol, the Wilson Combat EDC X9. Take a peek at this double stack 9mm carry gun.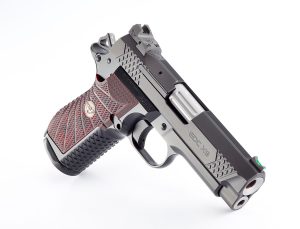 You'll hear why Adam and the Wilson Combat crew thinks this is the best show of the year, and why they show off great stuff and fields of products, while letting guests get hands-on with them. You'll hear about all the cool things that caught Adam's eye, along with what Adam has been looking at in gun magazines.
Adam shares his one reservation with 1911s, yet he'll tell you about the Wilson Combat is a name of quality, so much so that even though what Adam sees in 1911s 9mm don't work that well, this 1911 9mm, the EDC X9 is the 9 mm pistil Adam left the show carrying as his newest firearm.
About Wilson
Wilson Combat is a custom pistol manufacturer located in Berryville, Arkansas, that specializes in customizing and manufacturing. First started under the name "Wilson's Gun Shop" in 1977, Bill Wilson started his new gunsmith business in the back of the family jewelry store.