Listen in on this video of a new female student that has just gone through tactical training.  She discusses what's it's like to be a mom and carry her firearm with children around.   What's the best way to carry as a woman and many other topics new shooters may ask.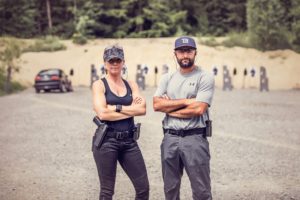 They talk about dangers in today's world, and why her training blew her away about what she did not know. In this session, you'll hear the big difference between marksmanship training and being able to defend your life. Adam also explains why it's important to become tactically and technically proficient. Katrina shares why she now knows how to survive and deal with a threat. You'll also see why she continues to learn every day, and how being proficient and protected can be fun.
Are you a Mom? Are you new to firearms training? How do you think you can apply what Katrina and Adam share to keep yourself and your family safe? Share your thoughts on moms and guns below.
Adam Painchaud is one of the most highly regarded small unit tactics and advanced firearms instructors in America. He is Army Ranger and Airborne qualified. Adam, a senior non-commissioned officer, has nearly 22 years of experience in both active duty and reserves. He has completed federal investigations as well as protective services missions worldwide including missions for the war against terrorism.
Adam has since transitioned to being the President and Co-Founder of E3 Firearms Association, as he continues to serve as a police officer. Adam remains active helping with training agencies, SWAT teams, and the community. He is  dedicated to making a positive difference in the firearms community and in people's lives. Adam is the driving force behind E3 Firearms Association.