See this short cut adjustable sighting system in action
The Ukon Adjustable Sighting System
Join Adam Painchaud and the crew from ANR Designs LIVE at NRA 2018, as they talk about the Ukon adjustable sighting system, including how the Ukon started out , and why it's great for using with pop up sights.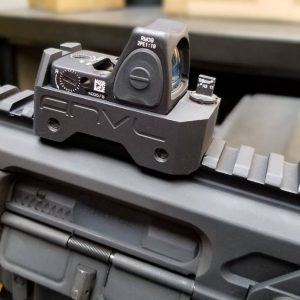 See this short cut adjustable sighting system in action, along with the theory behind it, and why it can act as a backup red dot. Learn why you want to run it more forward, half on rail and half on receiver.
Hear why you can get chastised without iron sights on your gun, they are still very popular in the market. Uncover why they are different set ups for different dots, and why it's the perfect solution with a Honey Badger.
About ANR Designs
The story begins in one of the last few remaining free states known as New Hampshire. Many folks have no clue where NH is or that is has some of the most Second Amendment friendly firearms legislation in the country! What started as an idea between two individuals, Alex and Ryan, officially became a business in January of 2014. We began 3D printing firearm accessories and novelty items. As our brand grew, the community followed. With our business strengthening, our innovative drive grew, and we dove into the holster game head on. This next year was crucial, days and nights were spent molding, cutting and polishing new designs and products. We soon built a great reputation and not long after, our KYDEX holsters became a household name throughout the country. Our business has now grown into a multi-member cross functional outfit with the capability of adhering to our customers' needs efficiently. To this day, we pride ourselves on delivering a product with exceptional quality, built by the people, for the people. @ANRDESIGNS https://www.anrdesignkydexholster.com