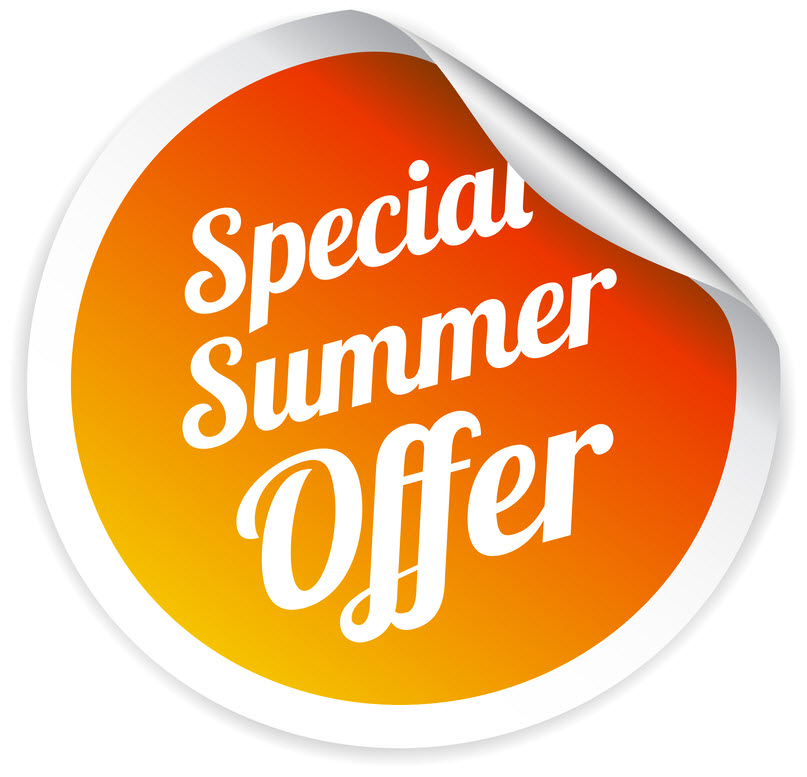 SUMMER OFFER: Get your first month FREE with promo code: "

trial

"
Now you can experience the full force of the E3 program without even paying a dime. AND... with our 100% Risk Reversal, no questions asked, money back GUARANTEE even after your first month you are covered. Now you have nothing to lose and no reason not to jump on board with us and experience the little known secret int he firearms world.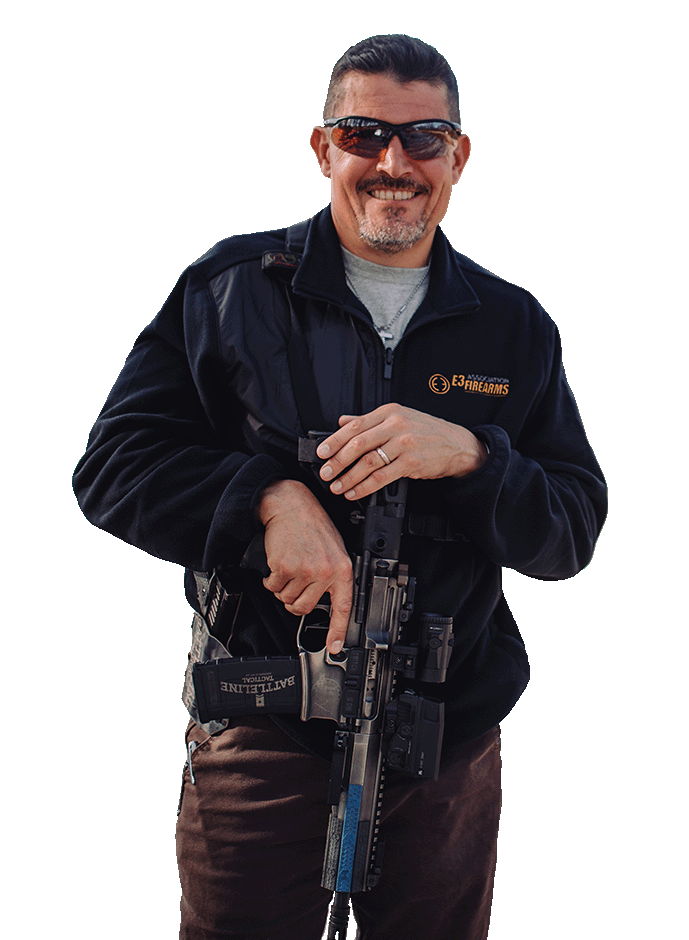 Join KRIS "TANTO" PARONTO in the ultimate online and in-person monthly firearms membership program with consistently new content, entertainment, mobile App, E3TV, online courses, groups, exchange area, magazines, webinars, live calls, member events, training and materials throughout the year.

Join KRIS "TANTO" PARONTO in the ultimate online and in-person monthly firearms membership program with consistently new content, entertainment, mobile App, E3TV, online courses, groups, exchange area, magazines, webinars, live calls, member events, training and materials throughout the year.
Come be part of something different that is needed in the firearms industry with a built-in community, coaching, and courses, partner discounts and much more.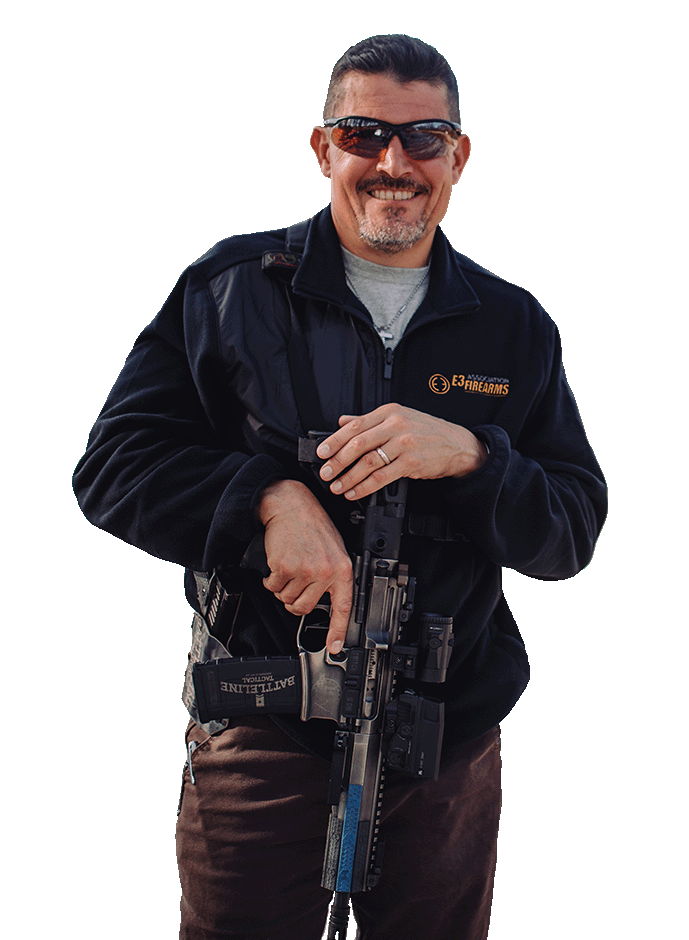 Come Be Part Of Something Special In The Firearms World With Built-In Community, Courses, Videos, Product Discounts And So Much More. See Below...
---
Join today and get immediate access to exclusive membership education, entertainment, empowerment and much more!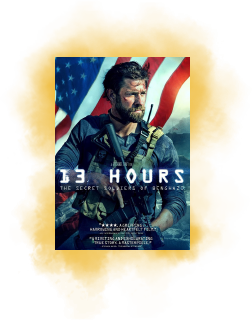 LIMITED DISCOUNT PRICING IN EFFECT!

CHOOSE FROM 3 LEVELS BELOW, Standard, Premium or VIP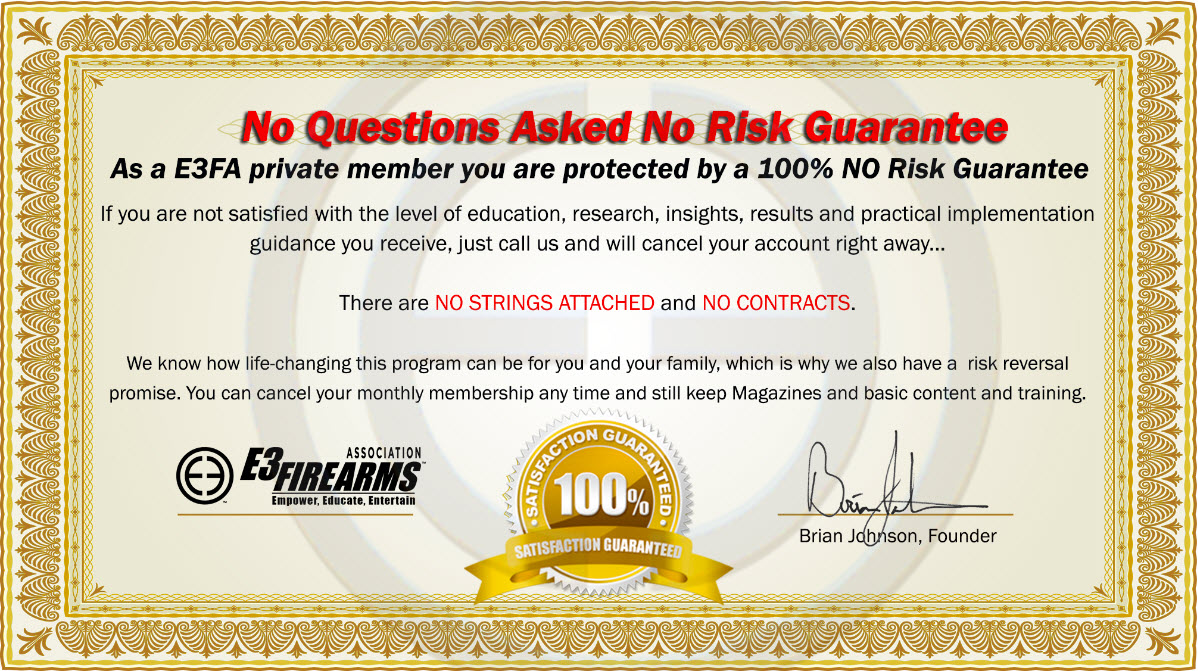 Take Us Up On This Offer With Zero Risk - EVEN AFTER YOUR TRIAL PERIOD
Experience this extraordinary program with experts and content - and immerse yourself in the non-stop insights each world-class expert shares. Either you unquestionably agree this program's value, payoff and usability is outstanding OR you are welcome to request an immediate cancellation with no obligation going forward. And get your FIRST payment refunded. No Questions Asked. No hard feelings on our part, either.
STANDARD Membership $19.95
Standard monthly membership includes:
Limited Access to Member-Only Courses and Video Vault

Access to Member Online Platform

Exclusive Access to the E3 Mobile App

Members Only E3 Firearms Association Magazine

Regularly Updated Member-Only Online Content

Online Training Course and Content
PREMIUM Membership $29.95
Premium monthly membership includes, Everything In Standard Plus:
Full Access to

Premium

Courses in Video Library

Premium Membership Levels in the Mobile App with Private Groups and Member Discussion Areas

"E3TV" Livestreams

20% Discount

on

Events/Conferences and Range Days

Live Group Q&A Calls with experts

Audio and Video Messages

from the Pros to Your App and Platform

Groups, Community Feeds, and Forums

Member

Only Classifieds and Exchange Engine

Member live

Webinars

with the Experts

Access to Member-Only In-Person

Events around the Country

Full Online Library (also available in Mobile APP)

Member Connection and Instructor

Directory

Live Accelerator Training with Special

Premium

Member Breakouts

Live Online Events Hosted by Special Guests

Advance Notice to Exclusive Private Travel & Mastermind Trips with Celebrities and Pros

Private Invitation-Only Weekends with Adam, Kris, and the E3 Team

Focus of the Month Strategy Calls
LIVE Advanced Training Strategies Videos, Webinars, Live streams
Live Events Hosted by Special Guests
Advance Access to Exclusive Private Trips before they fill up
Private Exclusive range day Weekends w/ Adam, Kris and Team (Invitation Only)

Exclusive Discounts from Partner Companies Saving You Tons of Money

Priority Access for Livestreams, Webinars, and Events – Premium Members Moved to the Front of the Line

Advanced Range finders

Preferred Local Instructor Group
---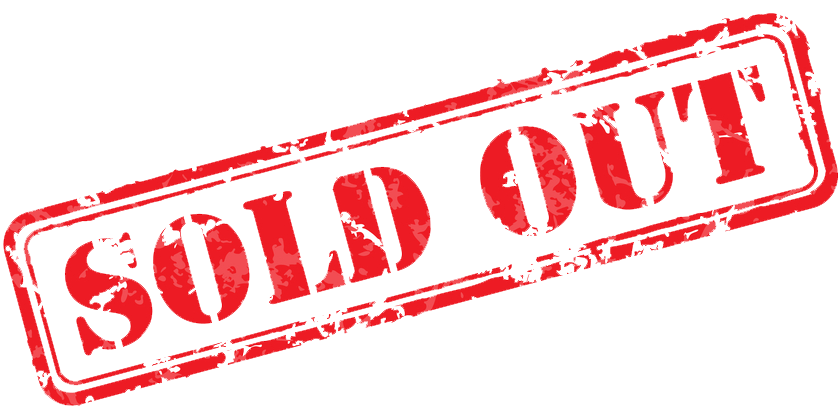 VIP Program $99.00 $69.00/Mo. Launch Special
Premium monthly membership includes, Everything In Premium Plus:
Complete Set

of Courses in Training Video Library

30% Off Events/Conferences
Live Accelerator Events With VIP Member Breakouts
VIP Trips to Exclusive Private Travel & Mastermind Trips with Celebrities
Private Exclusive Weekends w/ Tanto, Adam and Team
Dedicated Private Concierge
Private Access to Experts, Coaches
SOLD OUT! Get On the Waitlist
VIP is not available at this time. Choose another program and then join the waitlist above to be notified when VIP spots open up.
Frequently Asked Questions
Question: Where is the program located? Is it all on-line? Answer: Most of the content and activities are online. You can even ask questions during the webinars and calls. Watch all the E3TV shows in real time. We also have IN-PERSON special events throughout the country for members only.
Question: Who can be a member? Answer: You must be a US or Canadian citizen to be a member of E3FA.
Question: Can I just pay once and be done? No monthly payments? Answer: Yes on the thank you page after you buy your monthly subscription, you can upgrade to an annual membership. Annual memberships also offer additional member discounts and bonuses bonuses shipped to you.
Question: What are the product discounts mentioned above? Answer: Depending on the level of your membership, in most cases we have been able to negotiate below MSRP offers from our contacts in the industry. From holsters to grips to safes, ammunition and all related products. These deals CAN NOT be shared with non-members per our agreements with these manufacturers. It must stay behind the membership firewall.
Question: What if I am not using all the benefits like live events or more? Answer: Most people never use every single benefit. The great thing about E3 is that it's set up for you to consume the program in a way that makes sense for you. Just utilizing a couple of the many benefits pays for your membership. One month's discounts with partners could pay for your membership for years.
Question: Why is the program a monthly/yearly membership? Answer: It never ends. E3 is extremely prolific and packed monthly with more and more content, shows, courses, experts, and activities. E3 is not old or stale content. There is a cost to produce this for you and we want to bring you new and better experiences every month.
Question: Do I get access to Kris and Adam? Answer: Yes, you do. You can come to live calls to ask questions, live online events and also attend the live in person events throughout the year to meet and train with them personally.
Question: What if I am not using the program much? Answer: You can pause or cancel the program at any time. There is no contractual obligation to being a member. You can also transfer your founder membership to a friend or family member.
Question: What if I can't make it to live events? Answer: no problem. ALL the events are recorded and posted in your member area. Also only a fraction of member benefits are live in-person events. And... in most cases you can bring a guest or spouse to these events.
Question: How can I contact you?

A: you can submit an email to [email protected] and a ticket will be submitted.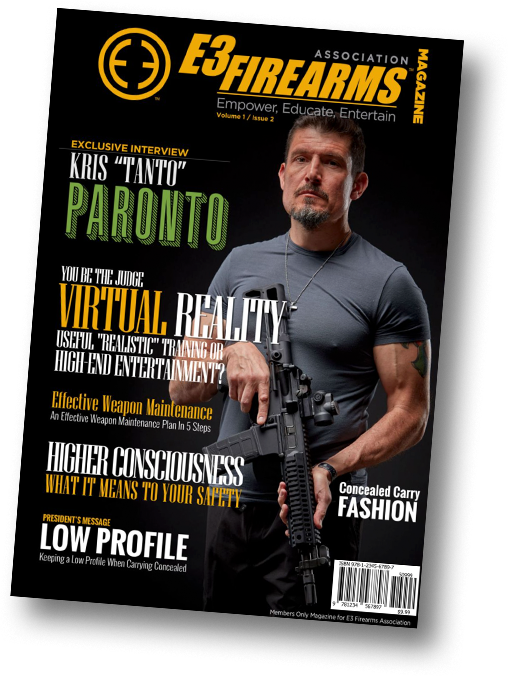 The World's Top Instructors
Members who join at relaunch will be known as E3 Firearms Association Founding Members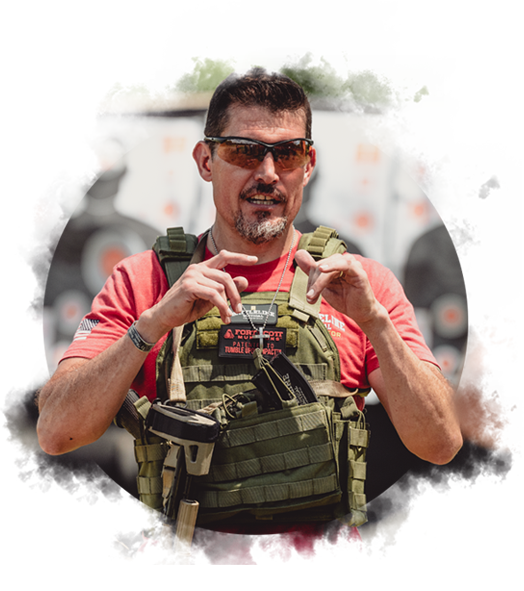 17 years training experience
12 years something else
2 tours Afghanistan
Combat training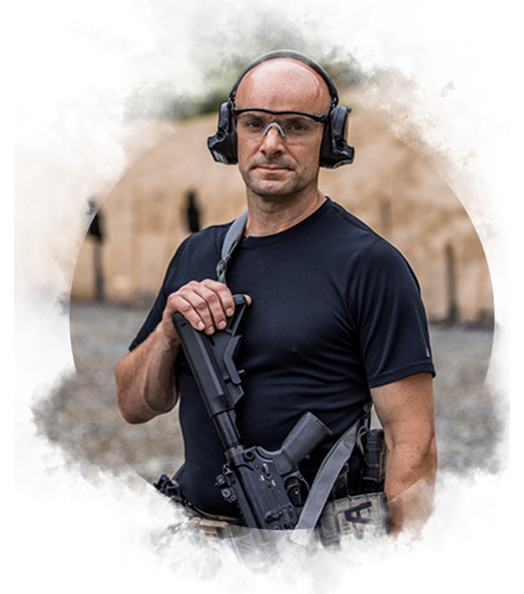 17 years training experience
12 years something else
2 tours Afghanistan
Combat training

"THE MOTHER OF ALL ASSOCIATION BENEFITS!" is yours NOW!
You get OVER $6,860 worth of Association Benefits for less than 2 cups of java!
Just look at what you're getting when you
START your
RISK-FREE E3 Membership Today!
At the click of your mouse, you will receive: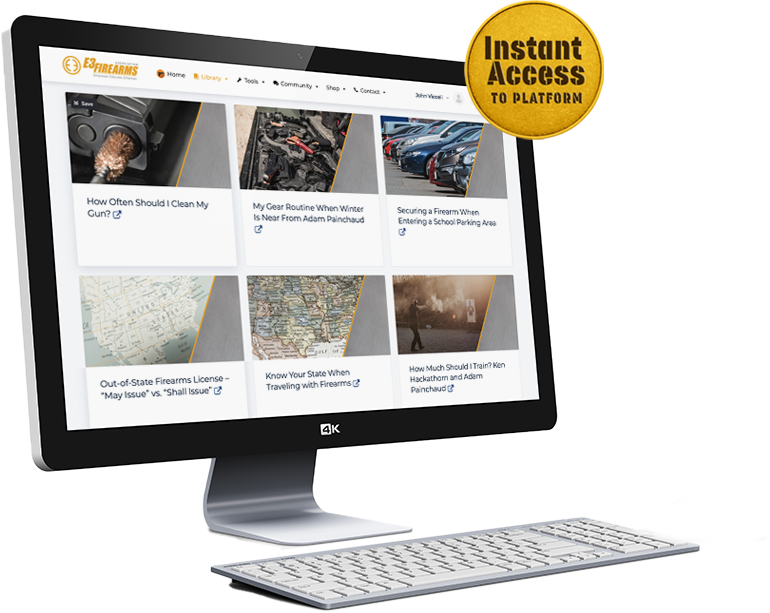 24/7 Access to the entertainment/education members Platform Today ($690 value) - You get access to the content already waiting for you from some of the expert staff like firearms experts, manufactures, product specialists, and more PLUS the finest Master Firearms Instructors in the world like Adam Painchaud & Kris Paronto.
Special Founders-Only Courses For FOUNDER Members (thousands of dollars in value) - You get a special bonus from Kris and Adam at launch time. This special private VIP course is only available to Founding members. Look, we can't spill the beans yet. All we can say is you won't want to miss out on this... it's worth thousands of dollars!
Advanced Training Webinars and "E3TV" Livestreams throughout the year ($900 value) - In advanced levels, you'll get high-end training like tactical application, clearing rooms, shooting from an automobile, and other strategies. All added to your massive library of content and tools.
E3 Firearms Association Magazine ($179 Value)– Each new issue is jam-packed with top-notch tips, training, and advice from some of the greatest celebrities and contributors in the firearms world.
TOOLS and RESOURCES ($2100 value) From the member exchange area, to range locators, instructor networks, checklists, training aids and so much more. We bring you industry proven tools to make your firearms experience much more powerful.
Behind the Scenes Access (priceless) Get special access to videos, audios, and live calls to hear private stories from TANTO and his guests. Be a fly on the wall as they discuss their experiences in the field and host intriguing conversations about current affairs and real life situations. Learn from the their experiences.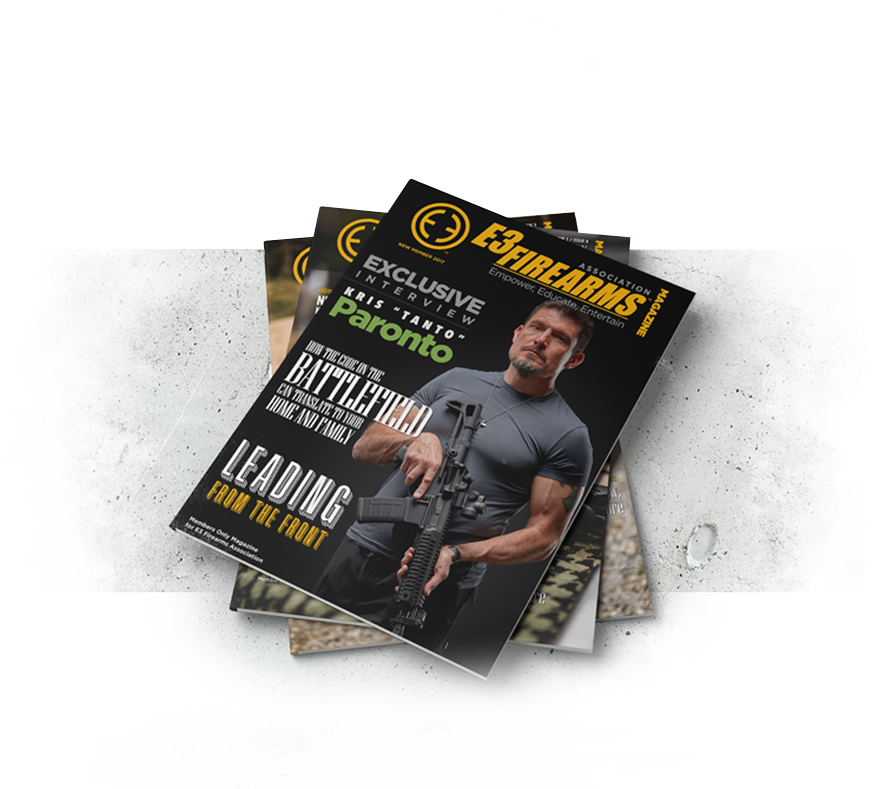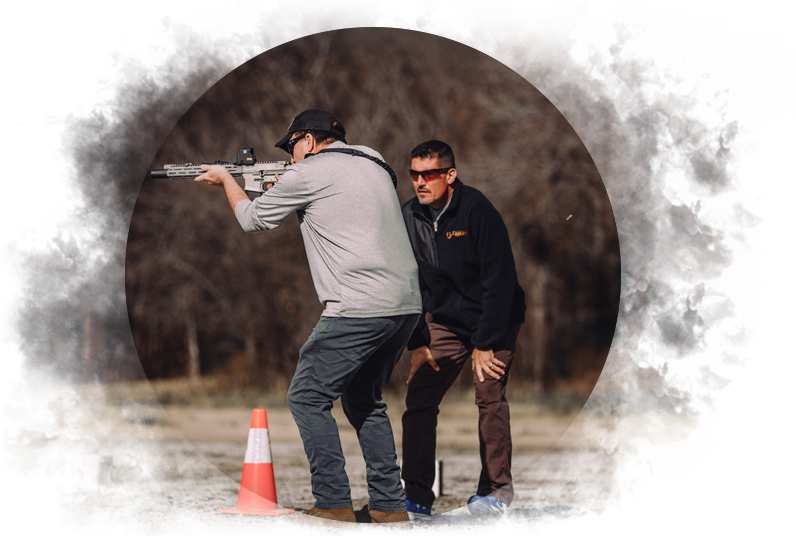 Shooting & Training Sessions bring all your hard work and learning onto the range for a challenging & eye-opening experience that will change how you think about firearms training.
Advanced Online Training Strategies ($1199 Value) Empower everyday civilians and avid shooters with the same proven methods & tactics professionals count on to win the fight. It's easier than you think to take your firearms mastery to the next level with E3.
Advanced Training Archives and Library ($300 Value) Contains hundreds of hours of elite lessons you can use to gradually build your knowledge, confidence, and mastery—focusing on the areas of your choice and in your own time.
Audio and Video messages from the Pros delivered to your app ($199 value) - These short, exciting, and value-packed weekly messages from top professionals and industry insiders will keep you in the loop. Imagine getting the latest firearms world news, updated information, and live and online membership activities. We're here to help you get the most from E3's membership program!
Discounts on Products with our Partners (THOUSANDS in SAVINGS) We scour the industry and make special arrangements with manufacturers and firearms product companies to bring member exclusive offers and discounts only in the membership platform. Discounts and offers you can't get outside the membership.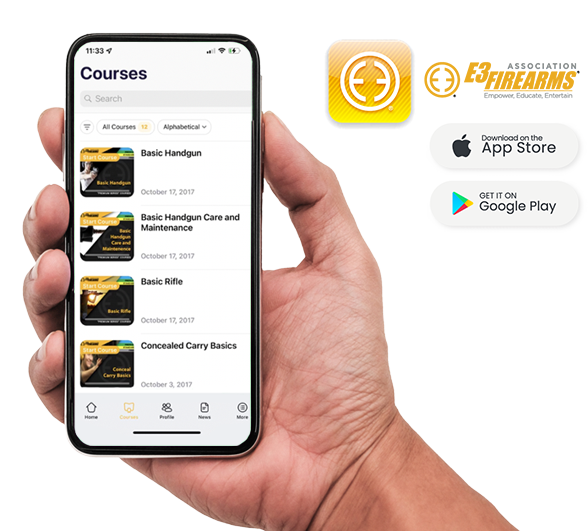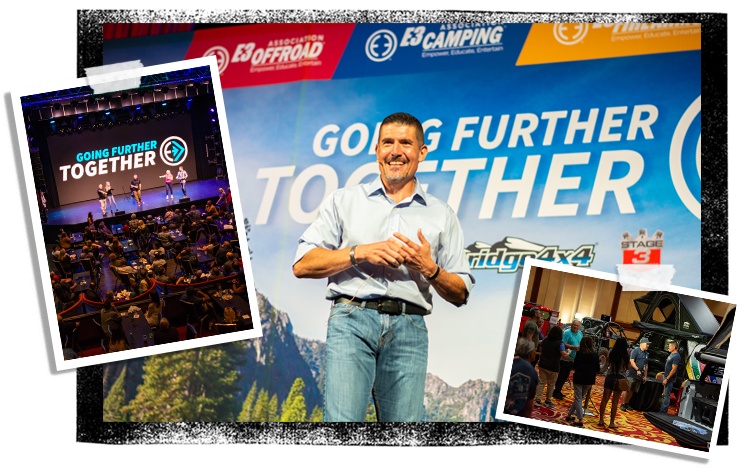 Member-Only Events, Conferences & Exotic Travel (from $400 to $6,000 Value) E3 keeps a busier, more exciting, and more educational travel schedule than ANY other firearms membership program out there. You are cordially invited to member-only conferences and all-inclusive, super-limited trips to exclusive places for training and shooting only open to E3 members. E3 HAS IT ALL!
Join E3 Firearms Association Now!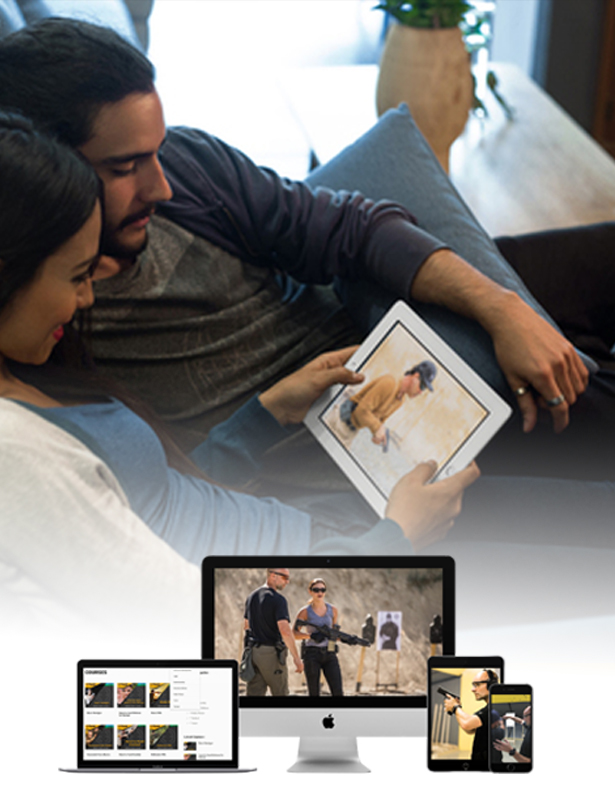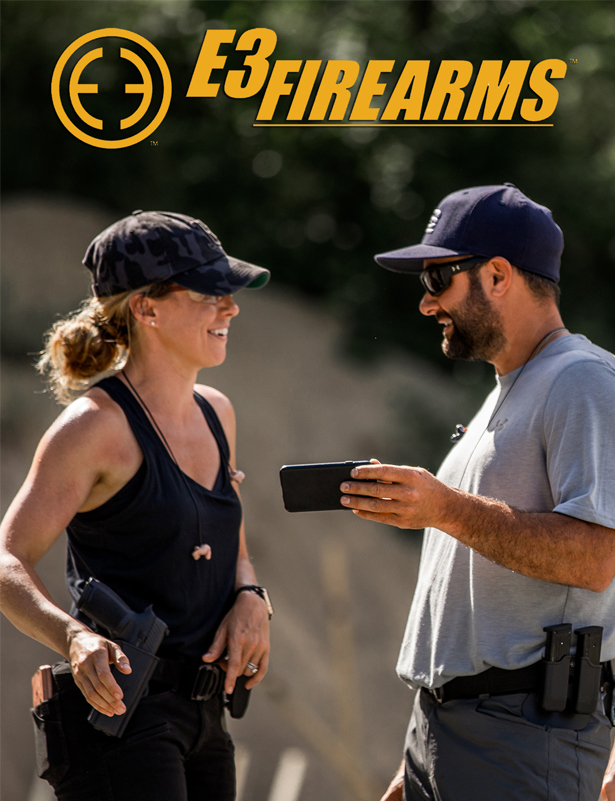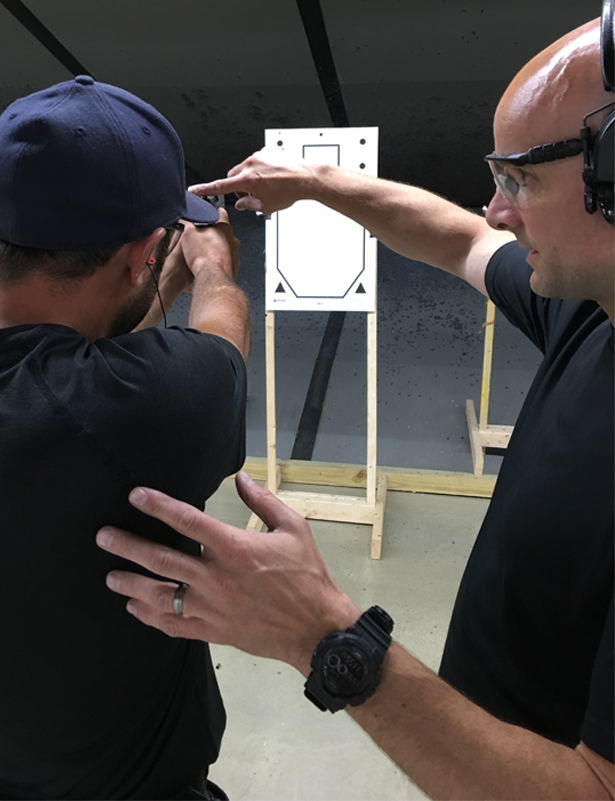 Start My E3 Firearms Membership Today!
If you are not completely floored with the quality and experience, you can cancel at any time!
Practical & Survival Firearm Tactics That Can Help Protect YOU and YOUR Loved Ones!

Our instructors are the real deal; many have been exposed to life and death situations.
And because they have lived through these harrowing experiences—they want to pass their best practices and survival tactics on to you!
Your training includes "best-case" and "worst-case" scenarios.
For example, our virtual (and live events) cover how to prepare for:
Medical and trauma situations
How to deal with aftermaths
Specific legal discussions that will interest all members (no matter what state you live in.)
Plus, so much more! And Best of All…
E3 Constantly Updates Content PLUS adds new membership benefits!

Speaking of which… just today, we added 34 additional website portal features. So what does that mean to you?
It means when you join E3 Firearms Association:
You'll be able to connect with other members with fun social tools and share experiences
Join the conversation by participating in select groups
Buy and sell in the classifieds section
Download our app and set up mobile notifications for messages, new content, and a whole lot more!
Ignore the noise; it's your time to take action!
Choose the Best Membership for YOUR Lifestyle!

E3 Firearms Association is committed to training you with vetted, top instructors to help you to silence the noise and misinformation found on social media platforms and on YouTube!
Join E3 Firearms Association TODAY to feel safe, confident, and certain about what you would do in challenging situations. You will get the necessary tools to protect yourself and your family and feel competent!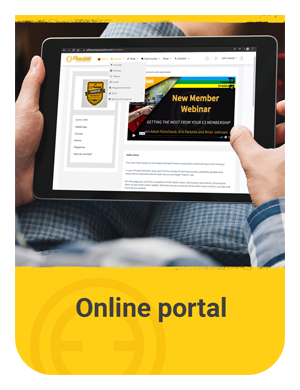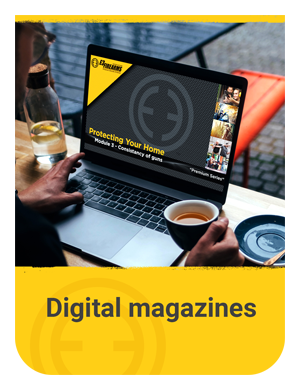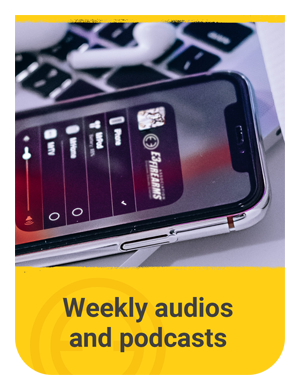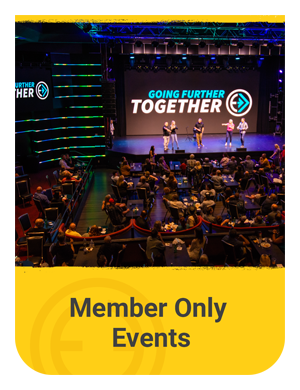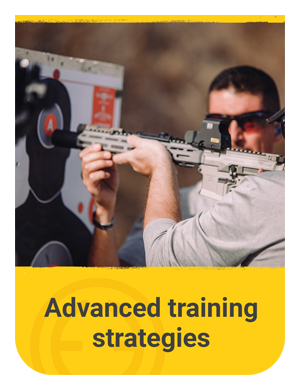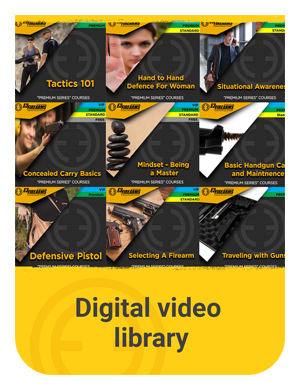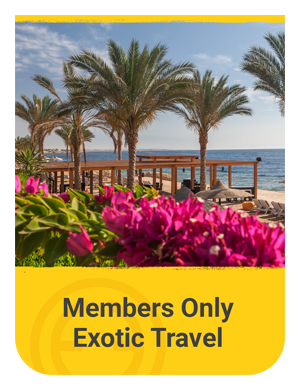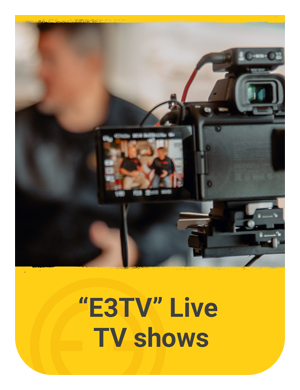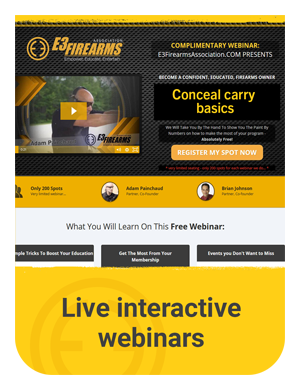 AND LOADS MORE. SEE FULL LIST BELOW...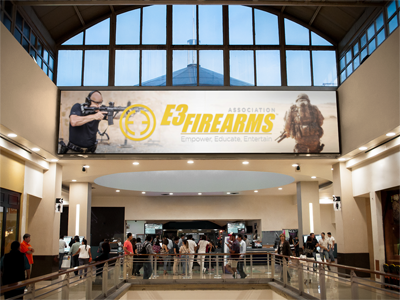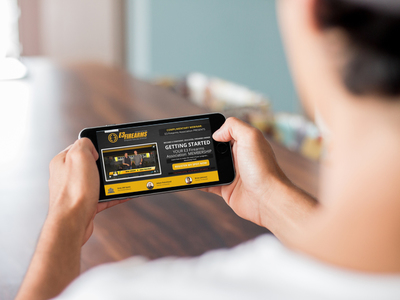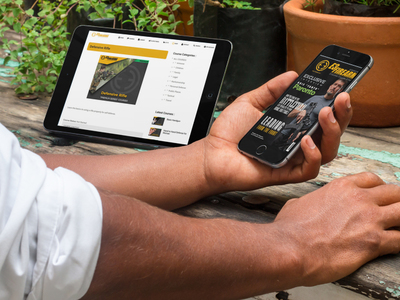 what our members are saying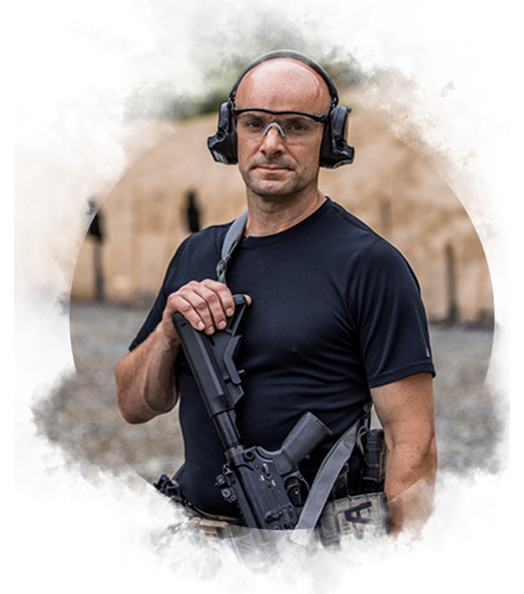 Input your text here! The text element is intended for longform copy that could potentially include multiple paragraphs. - Adam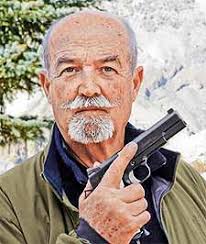 Input your text here! The text element is intended for longform copy that could potentially include multiple paragraphs. - Dr. Who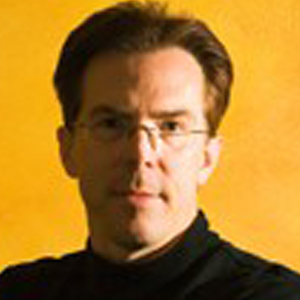 Input your text here! The text element is intended for longform copy that could potentially include multiple paragraphs. - Dr. Jeff Stamp
Launching July 2022...
Join the "FRONT-OF-THE-LINE" list today to get special advance 72 hour notice to the registration page once we launch so that you can grab ONE of the 1000 limited FOUNDERS spots available at launch.
when you join us at launch you'll be aN e3 firearms association "founding" member - giving you access to exclusive gifts, discounts, and perks over and above all other members. There will only be founders
ONCE

and then gone forever
SO, join the email list today with NO OBLIGATION and make sure you receive all the updates leading up to relaunch AND get the chance to join before we open membership to the general public.
This is the best way to make sure you don't miss out on any of the cool things we have in store for our members!
E3 Firearms Association is built to empower, educate, and entertain. You'll grow your skills as you learn from master instructors and other vetted experts while enjoying an exclusive community of like-minded professionals and enthusiasts. Your entire experience as an E3 Firearms Association member is designed to make sure your time at the range, in the field, and out on adventures is everything you want it to be and more.
With everything from tactical to handgun training, you get it all with the E3 Firearms Association membership. Sign up to be the first notified when we relaunch so you can become an E3 Firearms Association Founding Member!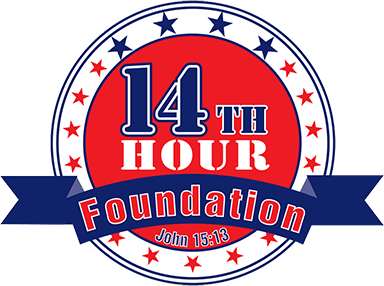 You know the people who you'd do anything for? What about the people who always have your back?
That's what our community is all about.
We believe in doing good together. Not just going on adventures - but by making a mark on society for the better too.
That's why E3 Firearms Association donates 10% of every monthly membership to 14th Hour Foundation, which is dedicated to honoring and supporting individuals and their families who have served and sacrificed to protect the American homeland.