I can't remember a time when guns weren't in my life.  My dad hunted with gun and bow.  He kept his guns in an antique gun cabinet in our dining room.  No lock, glass front.  It was filled with the antique guns he collected, his hunting guns, a hand gun, and ammunition.  It was a different time then, and although the guns were dangerously accessible, especially by today's standards, my siblings and I were fully aware dad's gun were not toys.
He was always more than willing to show them to us, but we knew we weren't allowed to touch them without permission.  Just the idea of my dad's wrath was reason enough for us to stay away from his gun cabinet.  As a child it wouldn't have occurred to me to handle guns carelessly or recklessly, but having grown up around them certainly made me more interested in learning about guns as I got older.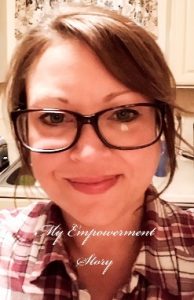 I wasn't one of those girls whose dad took shooting or hunting, so outside of looking at guns I didn't really have much experience.  It wasn't until I met my husband that I truly began to appreciate what it means to be a gun owner.  I admire his old-fashioned meets new experience with guns.  He enjoys hunting and target shooting with his dad's or my dad's well-worn rifles and shotguns, but at the same time he's perfectly comfortable with handling new model handguns for protection at home, as well as carrying one in public.  Still to this day I would trust no one more with any type of gun in my son's or my son's presence.
After we were married, my husband Tom and I would occasionally treat ourselves to a short getaway.  We'd travel to Owenton, Kentucky, staying overnight at Elk Creek Hunt Club.  They have a sort of "golf course" for clay pigeon shooting.  After our first visit I was hooked!  Shortly after, Tom bought me my own shotgun.  We've been back three times since we were first married.
Over the years we've accumulated quite a few new guns, on top of those Tom had before we married.  Tom has his conceal and carry license, and I'm learning how to use my new Ruger 380 so that one day I can get mine as well.  It's not often, but there are those moments when I find myself in a situation where I'd feel more secure if I was able to carry.  Even more so nowadays with movie theater, mall, and school shootings.  My heart breaks for the families of the victims with every incident, and with each tragedy I become more resolute about an individual's rights to carry.
It's a terrifying thought that one day myself, my family, or even the group of people near me would find themselves sitting ducks in an active shooter situation.  I'm a fighter.  I like that I'm a fighter.  If I had a serious illness I'd fight my way healthy if I was able.  And if I was ever in a situation where I encountered someone who meant me or my family harm – just because we happen to be at the movies or the mall on a particular day – I'd want to have the ability to fight.
Up until I was 30 years old, I was immortal and bulletproof.  Then I had my son.  I'd die a little every day thinking anyone, or anything could ever hurt this amazing being that came into my life.  That's when a certain nasty word hit me for the first time in my life.  Vulnerability.  I'm a petite woman who had a hard time lugging around my hefty baby boy.  Walking in and out of a store was a chore.  I often felt like an easy target.
For instance, as I was leaving the grocery one day, my hands full of baby, trying to get him safely into my truck, a man approached me.   He angrily told me I need to be more careful turning my back on my purse or someone will steal it.  First, why are you watching what I'm doing?  Second, why are you approaching me? It's not your purse, so what's it to you?  My son is my priority over my purse.
It left me feeling confused and angry.  This man would never approach my husband in a huff.  His motives may have been innocent, but how can you be certain?  I must have blown off such interactions before, but once I had my most precious cargo with me they felt like a violation.  Not to sound like a mean mother, I truly appreciated the oohs and ahhs.. over my son, but there were times that I felt like having him with me gave people an excuse to approach me, either with good intentions or not.  Sometimes walking to my car, strolling on a wooded trail in a park, at an uncrowded playground, I suddenly realized how vulnerable I was for the first time in my life.  I hated that feeling.  I resented it.
Last week my husband and I received an email from my son's school that some students alerted the Assistant Principal of rumors of a threat that had been made by a student on social media.  The student admitted to the threat and the letter assured parents that the student is receiving the most significant punishment the school can give.  Then it stated, "Our on-site School Resource Officer arrested the student."
I was elated to find we have a School Resource Officer!  I fully support any school's right to protect our children any way they can, and I am so proud that our school is taking the initiative to respond proactively rather than reactively.  And I thank the heavens if there is an experienced, armed officer or individual on site.
I am a dedicated, proud advocate for the Second Amendment.  I strive to be a responsible, experienced gun owner and carrier.  I want the opportunity to fight should I ever need to.  Like anyone, I wish I could fight with words, or fists, but the bad guys aren't empathetic.  They bring guns, and bombs, and I can't support bringing a knife to a gun fight.
About the Author:  Terri Vetter resides in Bright, Indiana with her husband and son, Max.  She's the Marketing Director for Delhi Flower & Garden Center // Krueger Maddux Greenhouses.  She's just an average mother, who enjoys gardening, yoga, camping, cooking, and visiting Wineries.  She's dedicated to protecting herself and her family by empowering herself on firearms training and education.  
Send us Your Empowerment Story: If you're a female who's been empowered by firearms training, we want to hear from you. Send us your story and a photo at contribute(at)E3FirearmsAssociation.com.  Your story might be selected to be featured in an upcoming #WomenOnWednesdays post, or even our E3 Firearms Association Magazine, and you're eligible for prizes just by submitting your story. All contributions become property of E3 Firearms Association.