Adam Painchaud Talks with Kerry Davis of Dark Angel Medical About First Aid Training
Kerry, how about level of training, for our members out there. What type of training or what level of training do you think is sufficient for them to achieve? Your average Red Cross Certification? What is it that folks can do out there to be more prepared when it comes to tactical medicine?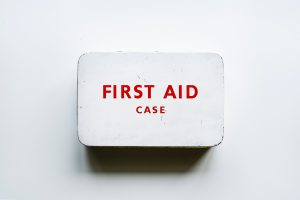 Adam, I would go over and above that first aid training. The American Red Cross has always told people, it's a great starting point. Your people need to get basic hands-on first aid training, and CPR training, like the classes we offer. I have been doing this for a decade and we've actually changed our curriculum a good bit.
I would say if they took one of our Dark Angel Medical Classes, which are all over the US, they get an amalgam of everything from combat life-saver, tactical combat, even casualty care.
If you're an EMT or paramedic, we're aligned with the accrediting organization for you nationally, so you get 16 hours of continuing education units, which is huge. Everybody through our classes are aligned with the Department Of Homeland Security and the American College Of Surgeons for the new "Stop The Bleed" Campaign.  It's a public access hemorrhage control campaign we're trying to get out to the people and we are aligned with them as a private sector partner.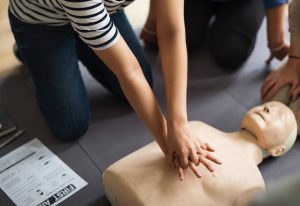 Our curriculum is nationally accredited for a-basic bleeding control or B-con certification. Everybody who comes through our class now and gets a B-con certificate as well as one of our certificates of completion.
We teach over and above what American Red Cross teaches or what the American Heart Association teaches for their first aid program. It's something that anybody can take, that's the beautiful thing. Anybody can stop bleeding. Anybody can save a life. It isn't rocket science and it's not some fairy dust, voodoo medicine. It's real world tactical medicine.
We've coined a term, we call it "everyday trauma care." Everybody is all about carrying their guns and their knives,  but nobody has any medical stuff in there. I tell them, "You have to put that stuff in there. You have to make that your preparedness, it isn't a fashion statement, it's a lifestyle."
If you're not carrying a med kit or some sort of medical preparedness, you are doing it wrong. Everyday trauma care is what we do. People ask us what we do, that's it… Everyday Trauma Care, EDTC. If you aren't carrying medical, then you have no business leaving your house.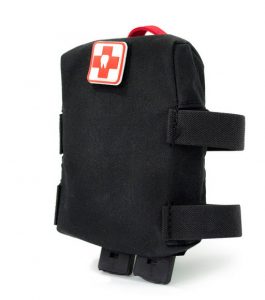 Every Day Trauma Kit – Available at Dark Angel Medical