ADAM PAINCHAUD:
Obviously being physically fit is obviously important. How do you think that enhances your defensive posture, you're mindset? Why is this so important to you?
KRIS "TANTO"PARONTO: Well, it does. Mindset first of all, actually I'm downstairs.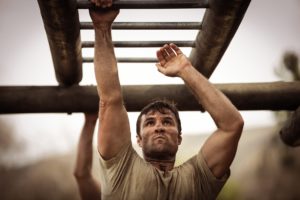 I got done with my 4.5 run and I'm downstairs working out while we're doing this interview right now trying to multitask a bit. I think it just keeps your mind sharp and it keeps you confident. Other people realize if you're not looking first to be aesthetically pleasing to everybody, you're not trying to look good for people.  It's so you can look in the mirror and look at yourself, you know what, I really am proud of what I'm doing to maintain,  the hard work that I'm putting in to maintaining this really combat readiness is for me that's what I call it. Civilians can call it a sense of readiness or being the best person you can be.  And to me with the job I did and the stuff that I do, having the physical rea
diness is always important. I may re-deploy again and if I re-deploy again, I can't let myself go and my body go because what that's going to do is first of all it's going to increase the chances of me dying. Second of all, it's going to increase the chances of my body dying around me because I can't hold my weight. Third of all, it's not going to be able to keep my mind right and you have to stay confident and to me being confident in staying in shape then that's what I'm going to do.
And that also leads to other things, which is being confident. You're confident in your workplace. Being confident in things that you do because you're confident you can grab a task and you can tackle it and you can get it done. And it's just it's like a domino effect. Like standing those dominos up one thing, one positive thing in life can lead to another positive thing which can lead to other positive thing where the exact opposite can happen, too. If I let myself go and I look in the mirror it's like you know what, I am not where I need to be. Yeah.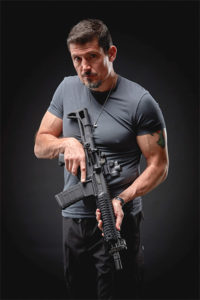 It really is that simple and it's also going to the range or when I was in grad school I was going to library and reading another research journal, I was up and I hated that, believe me. I hate research journals. They're the most drab things in the world, but we know in how to read those things. We know how to read a scientific journal and getting the ins and outs and knowing how to research methods, probabilities, statistics and knowing those things. I was more confident so when I went to class I was able to tackle the assignments and I did very well in grad school, too. It's just bettering yourself.
Whatever you want to better yourself at because at least a betterment down the road and other things as well. And then when a situation happens where you need your confidence like being left behind for 13 hours in a foreign country and you need to get yourself together you've built that base and you can do that. Again, it's all it is.  It's just people sometimes give up on themselves and you shouldn't do that. You should always try to push yourself a little bit, just a little bit.
For More Information Like This
Most people know Kris Paranto as TANTO from the movie "13 Hours – The Secret Solders of Benghazi". Want to hear the full interview between Adam Painchaud and Kris Paranto, plus interviews with other firearms experts? Articles, videos and podcasts like this are just a fraction of the benefits available when you become a member of the E3 Firearms Association community. Learn more about membership here.
Adam Painchaud is one of the most highly regarded small unit tactics and advanced firearms instructors in America. He is Army Ranger and Airborne qualified. Adam, a senior non-commissioned officer, has nearly 22 years of experience in both active duty and reserves. He has completed federal investigations as well as protective services missions worldwide including missions for the war against terrorism.
Adam has since transitioned to being the President and Co-Founder of E3 Firearms Association. Also, he continues to serve as a police officer today. Adam remains active helping with training agencies, SWAT teams, and the community. Adam is the driving force behind E3 Firearms Association.